One of the most notable & recognizable personalities in the global Dawah sector in the past 50 years or more as undoubtedly Shaikh Ahmed Hoosen Deedat (1918-2005).  Born in 1917, Deedat grew up on the crest of anti-colonial upheavals and worldwide revolutionary ferment, who had dedicated more than 40 years of his life presenting Islam, mainly to non-Muslims across the world.
He came from an era where he was under colonial domination. He was a product of that British colony when he came to South Africa. 
He was a South African writer and public speaker of Indian descent. He was best known as a Muslim missionary, who held numerous inter-religious public debates with evangelical Christians, as well as video lectures on Islam, Christianity, and the Bible. (Source: Wikipedia)
He was one of the most influential Muslim missionaries and polemicists of the twentieth century. He founded the Islamic Propagation Center in 1957, and his debates and writings continue to circulate around the world. Deedat's methodology and argumentation have influenced other prominent Muslim polemicists in the twenty-first century.
Ahmed Deedat is most famous for engaging Christian evangelists in public debate. In 1986, he debated with Jimmy Swaggart and even challenged the late Pope John Paul II to a debate in the Vatican Square, Rome.
Education
Ahmed Deedat had no recollection of his father until 1926. His father, a tailor by profession had migrated to South Africa shortly after the birth of Ahmed Deedat.
Ahmed Hoosen Deedat had no formal education, yet he fought off the extreme pangs of poverty by going to South Africa in 1927 to be with his father. His farewell to his mother in India in 1927 was the last time he saw her alive for she passed away a few months later. In a foreign land, Ahmed Deedat, who was nine and with no formal schooling and command of the English language began preparing for the role he was to play decades later without realizing it.
Applying himself with diligence to his studies, Ahmed Deedat not only was able to overcome the language barrier but excelled in school. His avid passion for reading helped him gain promotions until he completed standard 6. Lack of finance interrupted his schooling and at the early age of about 16 he took on the first of many jobs in retailing.
He started attending Islamic study classes held by a local Muslim convert named Mr. Fairfax. Seeing the popularity of the classes, Mr. Fairfax offered to teach an extra session on the Bible and how to preach to Christians about Islam. Shortly thereafter, Fairfax had to pull out and Deedat, by this point quite knowledgeable about the Bible, took over teaching the class, which he did for three years. Deedat never formally trained as a Muslim scholar.
Early Missionary
In 1936, Ahmed Deedat worked at a Muslim owned store near a Christian seminary on the Natal South Coast as a furniture salesman. The incessant insults of the trainee missionaries hurled against Islam during their brief visits to the store infused a stubborn flame of desire within him to counteract their false propaganda.
As fate would have it, Ahmed Deedat discovered by pure chance a book entitled Izharul-Haq, meaning, 'The Truth Revealed', written by Rahmatullah Kairanawi, while he was rummaging for reading material in his employer's basement. 
This book recorded the techniques and enormous success of the efforts of Muslims in India in turning the tables against Christian missionary harassment during the British subjugation and rule of India. In particular, the idea of holding debates had a profound effect on Ahmed Deedat.
Armed with this newly found zeal, Ahmed Deedat purchased his first Bible and began holding debates and discussions with the trainee missionaries. When they beat a hasty retreat in the face of his incisive counter arguments, he personally called on their teachers and even priests in the surrounding areas. These successes spurred Ahmed Deedat in the direction of Da'wah.
With missionary zeal to project the Truth and beauty of Islam. Ahmed Deedat immersed himself into a host of activities over the next three decades. He conducted classes on Bible studies and gave numerous lectures. He established the As-Salaam, an institute to train propagators of Islam. He, together with his family, almost single-handedly erected the buildings including the masjid, which is still a landmark today.
Books 
Ahmed Deedat has published over 20 books and distributed millions of copies free of charge. He has delivered thousands of lectures all over the world and successfully engaged Christian Evangelists in public debates. Several thousand people have come into the fold of Islam as a result of these efforts.
One of the best selling books by Ahmed Deedat – The Choice: The Quran or The Bible. 
This book of Ahmed Deedat's is a collection of his most popular series of booklets on Islam and Christianity. While produced in an excellent low-key reference quality binding on the outside, the contents, however, retain the customary Deedat attention-grabbing look with bolds and capitals abounding on each page for emphasis.
Islamic Propagation Centre International
Ahmad Deedat founded Islamic Propagation Centre International (IPCI), with the aim of printing a variety of books on Islam and offering classes to new Muslims converts. 
One of the objectives of IPCI, is to empower and strengthen communities through the promotion of moral values and principles, build bridges across faiths for greater understanding and social cohesion and to present Islam in its pristine and original form to people of all faiths.
In line with its objective of building bridges across faith groups, the IPCI host regular programs in a diverse set of communities across South and Southern Africa. These programs typically involve activities such as:-
a)      Public outreach programmes in Town Halls.

b)      Dialogue with church groups (local and international)

c)      Hosting Christian students at Muslim homes 
Marriage
Not much was being said about Ahmed Deedat's wife, Hawa, whom he married in 1942. 
But at this deathbed, his wife, Hawa and son, Yousof were by his side. Then about almost a year after Deedat's death, Hawa passed away.
Death 
On May 03, 1996 Sheikh Ahmed Deedat suffered from a serious stroke and remained paralyzed, unable to speak and bedridden for 9 years in his home Verulam. On 8th August, 2005 he passed away at the age of 87. Buried at the verulam cemetery in the province of KwaZulu-Natal, South Africa. 
 Verulam South Africa 
HiS SON YOUSUF DEEDAT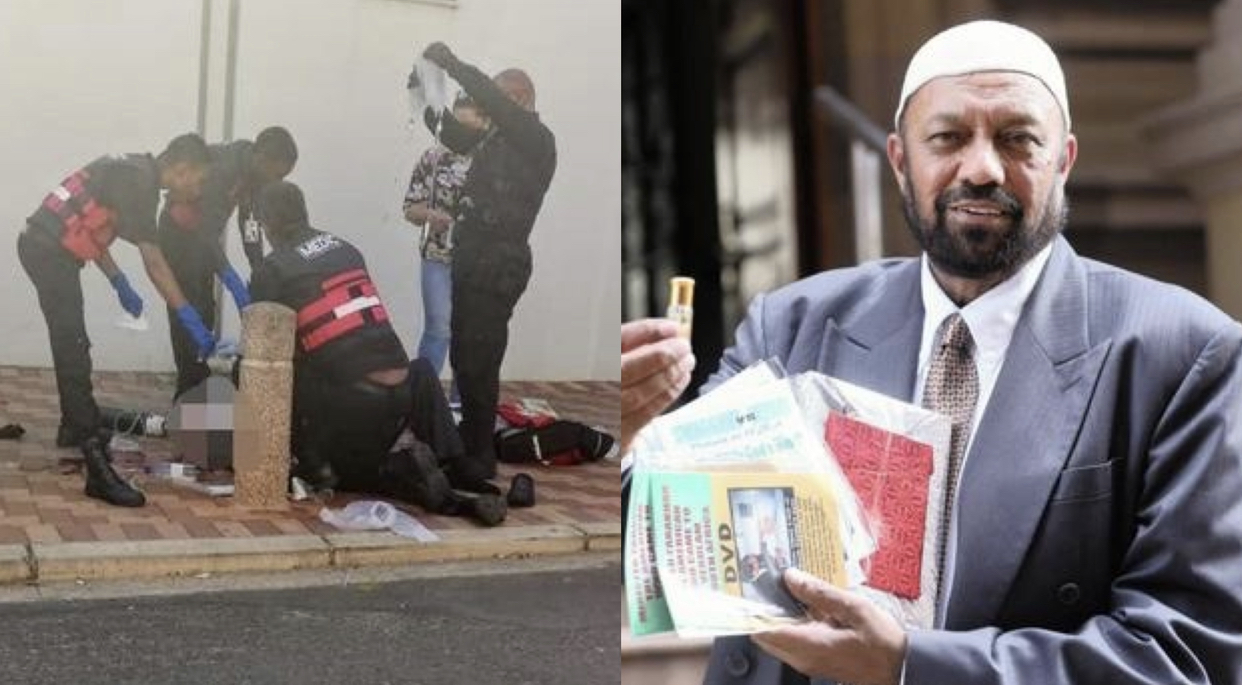 After Ahmed Deedat's marriage, his wife bore him a son, Yousuf Deedat.
Yousuf was born in 1953 and grew up in rural As-Salaam on the south coast of Natal. After completing his schooling and training as a motor mechanic, he joined the International Propagation Centre International. Just like his father, he was a community activist, and Muslim scholar in Durban. Yousof Deedat was very well-known for his willingness to help anyone who came to his door for assistance.
On a fateful day of January 15 of 2020, Yousuf Deedat was shot. He was sent to St Anne's Hospital in Pietermaritzburg after the fatal shooting. The suspect is still on the run. 
An eye witness saw a man walked up to Deedat, shot him, and fled to a vehicle parked along Groom Street. Upon his arrival, Yousuf Deedat was found lying face down on the pavement. 
Police spokesperson Colonel Thembeka Mbele said that Deedat was walking with his wife when he was shot and the motive for the shooting was not known.